Summer Camp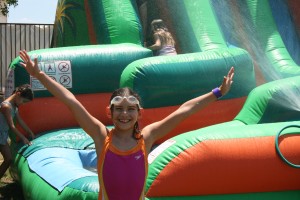 Gymnastics, Cheer, and Tiny Tumblers Camps
Click here to register now. 
Kim's Gym summer camp gives your child an action-packed, fun-filled week of gymnastics as well as art, cooking, games, yoga, swimming, outdoor adventure, and more!
2016 Summer Camp Dates
Tiny Tumblers(3&4 years old): June 6-10, July 11-22, and August 15-17
Gymnastics Camp(K-5th): June 6-10, July 11-22, August 8-12, and August 15-17
Cheerleading Camp(1st-5th):August 8-12
2016 Summer Camp Weekly Themes
June 6-10: Amazing Race-The Amazing Race wants you! Get your passports ready and come travel the world with us exploring continents, countries, and cities!
July 11-22: Time Machine-Buckle up because we are traveling through time! We will visit historic time periods, futuristic places, and meet some special people throughout our travels.
Aug. 8-12: Rio 2016- Let's pave the road to Rio! We will celebrate the 2016 Olympics together. Let the games begin!
Aug. 15-17: Best of the Best-This week we will re-live all of our favorite themes, games, and activities from the summer. Let's have the best week ever!
Team Skills Camp
Come improve and perfect your skills before the upcoming season! Current and potential team members will have intensive training on all events, as well as get to know their fellow teammates and build friendships that will last throughout the year.
4-6PM skills camp
Tiger and Boys Team: July 25-29
Select and Elite Teams: August 1-5
Crew Camp
Kim's Gym invites girls and boys in grades 6 through 9 to join us as crew members at our summer camps.  These helpers assist our group coaches and are essential to each session's success.  Our crew members will be trained to positively interact with the campers, and the experience is truly fulfilling on both sides.  We love having our crew, and the campers do too!  Our crew members also learn the value of hard work and are rewarded for their assistance at the end of each session.  Your child will have a blast and be a valuable member of our team!
Crew applications for summer 2016 will be available in February.
Click here to download the medical release form.  You must return this form in order to be a crew member.