About Us
Kim's Gym was started by Kim Laudenheimer Lindauer in March of 2002 based on the idea that all children, no matter what skill level, should have an opportunity to excel in gymnastics without having to give up their childhood. She prides herself on creating a fun, upbeat, safe environment which in turn helps the kids improve and succeed.
Kim's Gym  is an independently owned company that leases space from the Jewish Community Association of Austin.
Our Mission
Kim's Gym is a welcoming program where fun and fitness combine to create an upbeat environment.  Our atmosphere is safe, familial, and always filled with positivity.  We use energy and teamwork to achieve goals while building self-esteem and making lasting friendships. The combination of our teaching methods and non-competitive philosophy instill confidence in a child that carries into every aspect of their life.
Coaches Bios
Kim's Gym prides itself on finding the best coaches around. Each of our coaches is trained in teaching gymnastics and understands the importance of patience, an upbeat attitude, and constant enthusiasm. They not only teach the kids gymnastics or cheerleading, but they have fun with the kids…isn't that what it is all about? Our coaches are CPR/AED Certified.
Kim Lindauer
Owner and Director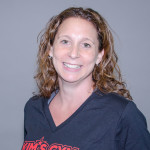 Hi Everyone! My name is Kim Laudenheimer Lindauer and I am the owner and director of Kim's Gym. I grew up in Shreveport, Louisiana, moved to Austin to attend the University of Texas in 1998, and never left this city.  I am married to Jared Lindauer, and together, we have two sons, Miles who was born in October of 2010, and Ari who was born in March of 2013.  I  began gymnastics when I was three years old. I started to compete in the 3rd grade and continued to do so through level 8 and my 9th grade year.  In High School, I was involved in cheerleading and was a member of our dance team.  At UT, I studied Corporate Communications with a minor in Business. My sophomore year, I began coaching gymnastics at Champions Academy at WAYA, and in 2002, after completion of college, I began Champions Academy – Kim's Gym inside the JCC, and have never looked back. I love this sport, I love children, and I love my job. I believe that recreational gymnastics is key in shaping a child's future. It provides self confidence, a healthy view of staying in shape, constant positive reinforcement, and is just plain fun. I continue to attend gymnastics conferences, am a member of the Gymnastics Association of Texas, and am safety certified by USA Gymnastics. I am also a member of the Board of Directors for Camp Dream Street, a sleep away camp in Utica, Mississippi for children with physical disabilities.
If I haven't met you yet, please be sure that you introduce yourself. I love to being able to match up all of our wonderful students with their parents. Thank you again for sharing your amazing children with us. Read More
Rachel Butler
Marketing Director and Team Coordinator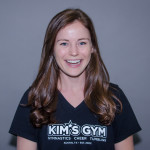 Hey everyone! My name is Rachel Butler and I have been coaching at Kim's for 6 years now. I am from Atlanta, Texas and a graduate from the University of Texas. I participated in gymnastics as a child and cheered competitively through high school. I am so happy to have a job that allows me to spend so much time with kids and their families. I love working with children and noncompetitive gymnastics gives me the opportunity to do this in a really fun environment. I truly enjoy what I do and feel very passionate about the positive influence that recreational gymnastics can have on a child's life. At Kim's Gym I get to help make sure that every child that comes in leaves feeling good about themselves!
Hannah David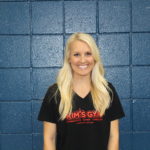 Tara Fury
Select Team Head Coach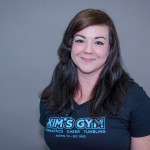 Hello Families! My name is Tara Fury and I am from the beautiful Florida Keys! I'm thrilled to get to know your kids and help to build not only their skills, but their confidence in this very rewarding sport. This is my second year coaching at Kim's. Before starting with Kim, I coached full-time and led my own advanced performance team as well. My background consists of participating in recreational gymnastics/ tumbling, competitive cheerleading, and nationally competitive dance from Las Vegas to New York. I truly fell in love with Dance in high school, where I studied at a classical studio and later in Miami under the passionate and unforgettable Mia Michaels. Dance led me to a full scholarship to NYC at Marymount Manhattan College. I was blessed with the very best dance professors, all former dancers from companies such as the New York City Ballet, Twyla Tharp, and Alvin Ailey. As a coach, I am all about safety, proper technique, and FUN! *USAG Certified Instructor.
Megan Gorey
Recreational Class Director and Elite Silver Head Coach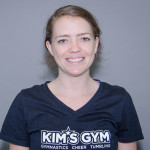 My name is Megan Gorey and I started gymnastics when I was 5. I spent the next 16 years in the gym competing up to Level 10 in club gymnastics outside of Nashville, Tennessee. I continued gymnastics in college at Indiana University while studying Psychology and Sociology. I started teaching at 16 and have been coaching on and off for the last 11 years.  Throughout all my years in the gym, I have developed a strong passion and enthusiasm for the sport and strive to share this love with everyone I teach. I enjoy working with all ages and abilities from recreational gymnastics to competitive teams.  I love the energetic atmosphere in the gym and how gymnastics can create and build self-esteem and confidence in children! Awarded Coach of the Month February 2013.
Nicole Garcia
Tiger Team Head Coach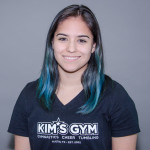 Hey everyone! My name is Nicole and I am from Brownsville, Texas. I began coaching at Kim's Gym during summer camp. It was during camp that I realized how much fun working with kids can be! I am currently a member of the University of Texas Gymnastics, and I am so happy to be able to share my love of gymnastics with all of your kids! Awarded Coach of the Month-November 2015.
Jackie Ozuna
Boys Team Head Coach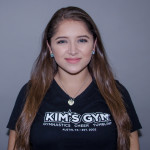 Hello everyone! My name is Jackie Ozuna. I am currently a second year psychology major at the University of Texas. I have studied many different art forms of dance since the age of two, and have taught children from 2-14 years old in dance. I have also been in competitive cheerleading since the age of 8, and I am a part of the University of Texas Competitive Cheer team. I love working with children so much! This is my second semester with Kim's Gym and I am super excited to be coaching these wonderful kids!
Jacob Treible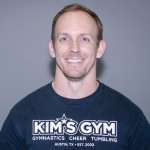 Hi! My name is Jacob and this is my third semester coaching at Kim's Gym. I began gymnastics as a teenager and I am currently a member of the University of Texas gymnastics team. I am looking forward to spending time with all of your kids in the gym and leading the Boys Team through a fun and rewarding year! Awarded Coach of the Month- February 2016.
FAQ:
What does my child wear?
Your registration fee covers a leotard for the girls and a t-shirt and shorts for the boys.  We strongly encourage you to have your child wear their uniform to class.  If they do not wish to, they can wear a t-shirt with gym shorts.  We do not wear shoes and hair needs to be pulled back in a ponytail.
What time do we need to arrive?
You are welcome to arrive at any point, but your children will not be allowed on the equipment until his/her coach calls their class to the floor.
Is there a registration fee?
No! We do not charge a registration or enrollment fee. The price of class tuition includes a leotard and t-shirt.
The $130 team fee covers the uniform, a t-shirt, insurance, hand-outs, professional photos, an end of the year scrapbook, a trophy, and all performance costs.
What if my child grows out of his/her uniform?
We try very hard to fit the kids at the beginning of the year so that there is space to grow.  If your child grows out of the uniform that we fit him/her in, you will need to purchase a new one.  You can do this in the gym.
How do I schedule a make-up class?
If your child misses a class and would like to do a make-up, you can either speak with Kim, Sandy, or Rachel in the gym during your child's class, or you can email Info@KimsGym.com to schedule. We will let you know what days/times are available and try our hardest to find something that fits with your schedule.  We ask that you only do one make up per month.
How can I help my child at home?
We strongly encourage our students to practice at home, so please remind them.  They can practice handstands and cartwheels in the grass where it is soft.  When your child starts learning more difficult skills, feel free to ask one of the coaches to show you how to help your child.  We can give you pointers on how to spot and what to look for.
Do the coaches babysit?
Yes!  Just ask them or be on the lookout for our babysitting list.  We email them out each semester.
Can my child's friend/relative come for just one class?
Unfortunately, if you have a friend in town, they cannot come to just one class. This interrupts our flow, and is very disruptive to the group.  If however, you have a friend who may want to join our program, feel free to give them our information and they can come and try a class.
Do you pro-rate?
YES!  If you become interested in one of our classes after the semester begins, we will just pro-rate the cost and you will only owe for the classes that you are going to take.
Can I stay and watch my child's class?
Absolutely!  We love it when parents are there.  We do ask that you encourage your child to stay with his/her coach and just wave to you if they need a little love.  We will take them to the bathroom and to get water during the class, so that you can just sit and watch.
When is Parent Watch Day?
We typically hold Parent Watch Day on the second to last week of class.  However, be on the lookout for emails and hand-outs from us for the exact dates.
What if I am not a member of the JCC?
No big deal.  You can still join our class and pay the non-member rate.  You will need to get a temporary pass from us to show to the security guard at the gate and to the staff person at the  Welcome Desk.  You will need a new one of these each semester, and they only work on days that your child is registered for class.
Do you have merchandise for sale?
Yes! Stop by our merchandise rack when entering the gym to see all the latest styles and leotard designs.